Ohio Timberland Products, Inc. Nail-Lam "PLUS" Columns
Our columns are manufactured courtesy of Ohio Timberland Products, Inc. Makers of the Nail-Lam "Plus", the first laminated building column to combine stainless steel fasteners and face glue to make a superior, economical building component.
Advantages of NAIL-LAM "PLUS" columns over solid sawn columns:
Individual plys have more complete treating than larger solids (treatment is with CCA to a 0.60 retention).
Straighter, stronger and lighter columns greatly reduce labor costs in field as well as eliminate call backs.
Posts won't crack or split and are of uniform dimension (making framing and finish work easier).
Untreated portions on upper end eliminates need for hot dipped galvanized nails.
Longer Lengths available on a minimal amount of time from placement of order.
Individual plys can be notched for a superior truss bearing connection.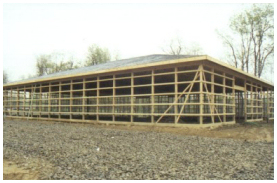 Advantages of NAIL-LAM "PLUS" columns over other mechanically laminated columns:
All stainless steel fasteners utilized throughout column.
Adhesive between plys greatly cuts down on interply slip resulting in better weak-axis stiffness.
Structural finger joints utilized in Nail-Lam Plus are produced under SPIB Glued Lumber Standards and carriers certification from the Southern Pine Inspection Bureau, a nationally recognized third party inspection agency.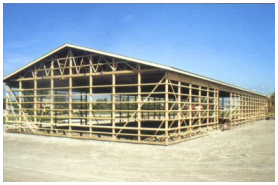 Advantages of NAIL-LAM "PLUS" columns over GLU-Laminated columns:
Nail-Lams can be easily notched in field for truss connections.
No more need to worry about possible long term delamination of plys.
Nail-Lams are generally more economical than glu-laminated columns.