"The Orchard Construction Benefit"
The benefits of employing a Licensed Contractor are many, but the most important benefits are your protection and the insurance that the job will be done correctly. Every Licensed Contractor's work is inspected by the local Building Code Authority. This "third party" provides an independent review of the workmanship on your project.
The Licensed Contractor should always retain the necessary building permits in the contractor's name. The company listed on a permit is legally responsible for the correct construction of the permitted project, NOT THE HOMEOWNER OR BUSINESS OWNER!
Licensed Contractors are required to be insured.
DON'T LET AN UNINSURED CONTRACTOR ON YOU PROPERTY!!!
Always ask to see the contractor's license. It must be in his name! Also, check for the proper insurance coverage. Contractors in the State of Michigan who employ more that one full time employee are required by law to have workman's compensation insurance. Ask for a certificate form your contractor!
Check with your local building department. Ask them about Orchard Construction, Inc. We gladly work with all inspectors.
Don't forget, a Licensed and Insured Contractor is your safest avenue to a finished project. The costs of permits is always cheaper than an UNFINISHED or UNSAFE building.
We also belong to the organizations…
Since 1989, Orchard Construction, Inc. has been in the business of designing and constructing "Post Frame Buildings" that are unique and fulfill our customers' needs.
We specialize in "Post Frame" construction, using that technology as a "niche" to provide our customers with custom residential accessory buildings (Toy Boxes), agricultural pole barns, low cost commercial and industrial buildings and equestrian buildings from intricate to basic.
"Post Frame" is an economical, fast avenue for new construction. The limits are endless.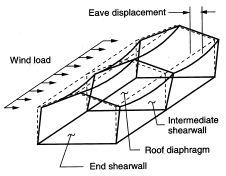 OCI began like many modest, small businesses. Steve Nikkel, our president, organized the corporation in the State of Michigan in 1989. With a Mission Statement to follow, we proceeded to concentrate on Post Frame Technology, using this as a niche to better provide for our customers through education, associations and implementation of sound business practices that have allowed us to grow and prosper. Along the road, we have had the opportunity of working with many fine people, our customers and suppliers.
Agricultural buildings and small accessory structures were our mainstay until 1993 when we built a 74′ x 124′ x 16′ tall storage building for Quality Wholesale, Inc. in Richmond, Michigan. The commercial building is used to store lumber, cabinets, trim and many other building components. In 2001, we added an 80′ x 120′ x 18′ tall storage structure for their continued growth. Quality Wholesale, Inc. is also an important supplier to OCI.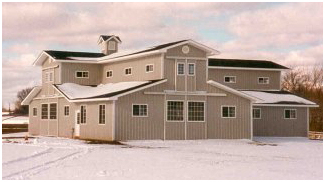 In 1997, we had the pleasure of meeting with and designing Mr. Ed Khoury's double "Monitor" style horse barn. Our pencil drawing on the back of a desk blotter turned into a wonderful and very practical equestrian facility that to this day is still used as a demonstration of our construction abilities to prospective clients.
Ed provided breakfast and recommendations to the principals of The Bouma Corporation in 1999 when they interviewed us to build two charter schools fro the National Heritage Academies, one in Linden, Michigan and the other in Burton, Michigan. Both buildings were approximately 50,000 square feet in size. These projects and our association with The Bouma Corporation provided us with many opportunities and knowledge.
In 2000, with the knowledge from previous projects, we designed and built the Creek Center Banquet Hall & Sports Facility. OCI handled all the site, building and construction of the facility. The savings over concrete block was well over $75,000.00. In 2005 we erected a similar structure for The St. Christopher Knights of Columbus in Marysville, M Michigan. Again, the savings over block was $60,000.00. This did not include the additional savings which will be reaped in the long run in reduced heating and cooling costs due to increased insulation areas. Their 6000 square foot building was under cover in three weeks!
An 8000 square foot industrial building was managed by OCI for American & Import Auto Parts, Inc. in Sterling heights, Michigan. President, Dennis Thompson, has turned the business over to his son, Mike who is now in the process of having OCI add on to the original buildings with a 3800 square foot addition.
By far one of our most intricate and beautiful buildings was completed after 11 months of painstaking work by some of our finest employees for Nancy & Larry Murphy of Clarkston, Michigan. In 2004 OCI was awarded the Building of the Year from both the National Frame Builders Association and the Michigan Frame Builders Association for LALLYBROCH, LLC. We are extremely proud of this facility and our relationship with the owners. (Note; Ed Khoury also provided breakfast for Larry when he viewed his facility).
Our continued growth is directly related to our experienced and caring employees. Without them OCI would only be average.
Thanks for taking the time to check us out. Hopefully in the near future we will add photos of your buildings to our website.